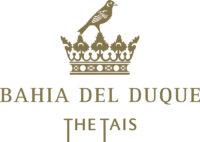 Place : Tenerife, Spain
Category : Hotel 5*
Segment : Leisure
The Hotel Bahía del Duque is located on the shores of the Atlantic Ocean, in one of the warmest and most prestigious areas of the island of Tenerife: Costa Adeje. On this amazing volcanic island, which features an exceptional climate with an average annual temperature of 23 ºC, is the Teide National Park, declared a World Heritage Site by Unesco.
The Hotel, with a design that recreates a traditional Canarian Colonial villa from the 19th Century, covers an area of 100.000m², of which over 63.000m² are lush tropical gardens. 
Located next to the El Duque beach and only 20 minutes from the International Tenerife South – Reina So- fia Airport, the hotel offers exclusive services such as the extraordinary
Bahía Wellness Retreat, an oasis that invites you to revitalize body andmind, and a world-class culinary proposal.
Surrounded by idyllic gardens and located by the sea, our 346 rooms, of which 57 are suites, and 40 private villas offer a peaceful retreat where you can unwind and surrender to a sublime sense of tranquillity. Bahía del Duque offers a world of possibilities so you can choose the accommodation that turns a simple holiday into something outstanding.
Casas Ducales
Located in a privileged area of the Hotel, they recreate a Colonial estate where you can experience the art of personalized service in its hall-reception. The rooms and suites offer exclusively designed furniture, where the exquisite combination of noble materials create an
atmosphere of luxury and balance, which is complemented with personalized service in all its amenities, as well as offering butler service and special attentions.
Las Villas
Surrounded by tropical gardens, Las Villas form an idyllic retreat where the refined service and warm climate create an environment of privacy and unparalleled exclusivity.
Designed by the prestigious interior designer Pascua Ortega, they have been built in a classic and elegant style using volcanic stone. Each one includes a private pool and separate solarium terrace. The rooms and bathrooms finished in basalt stone have the perfect combination of light, space and colour.