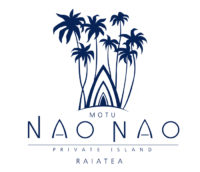 Place : Raiatea, Polynésie française
Category : Private Island – Luxury Villas
Segment : Leisure
Motu Nao Nao, with a surface area of more than 25 hectares, is located in the south of the Raiatea lagoon, only 1,250 m from the main island. Bathed by the turquoise waters of the lagoon and framed by white sandy beaches, this motu is a paradise and an invitation to relax.
The island has three villas built by local designer Alain Fleurot. Each bungalow has been designed to reflect the beauty of the surrounding nature, making each one a real little cocoon. Motu Nao Nao is rented on an exclusive use only basis, for a maximum of six people, with only one group allowed on the island at a time.
The activities at Motu Nao Nao are naturally inspired by the ocean and flora surrounding it.
Guests can choose between water activities such as private diving, fishing or traditional pirogue rides, or cultural visits such as the Marae of Taputapuatea on Raiatea and the pearl farms on Tahaa. Wellness is also on the agenda with yoga, pilates and massages.
Contact : Sylvie GREMILLOT – Senior Account Manager | Hospitality
Visit the website of Motu Nao Nao